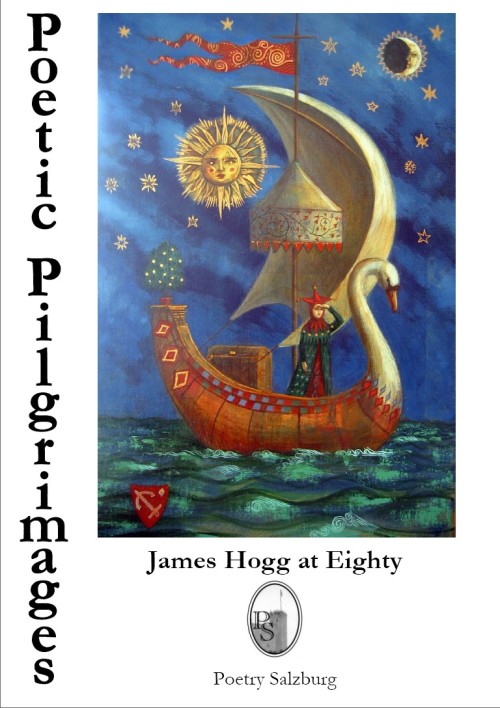 Poetic Pilgrimages: James Hogg at Eighty
Edited by Wolfgang Görtschacher, William Oxley, Glyn Pursglove, and Andreas Schachermayr
March 2011. 152 pp. ISBN-13 978-3-901993-34-3
£10.00 (+ 2.00 p&p), €10.00 (+ 2.00 p&p), US$12.00 (+ 3.00 p&p)
Book of the Month prices: £6.50 (+ 2.00 p&p), €6.50 (+ 2.00 p&p), US$8.00 (+ 3.00 p&p)
Contributors:
Ilse Aichinger, Sebastian Barker, Fred Beake, Alison Bielski, Sue Boyle, Maggie Butt, Roy Cameron, Ian Caws,Michael Croshaw, Hilary Davies, D. M. de Silva, Rose Flint, Angela France, Wendy French, Leah Fritz, Geoffrey Godbert,Wolfgang Görtschacher, David H. W. Grubb, John Gurney, June Hall, Michael Henry, Danielle Hope, Nigel Jarrett, Roland John,Anthony L. Johnson, Parvin Loloi, Rupert M. Loydell, David Malcolm, Patricia McCarthy, Keith McFarlane, John Miles,Suzy Miles, David Miller, Richard O'Connell, William Oxley, David Perman, Mario Petrucci, Glyn Pursglove, Simon Rees,Peter Russell, Andreas Schachermayr, Jonathan Steffen, Alec Taylor, Rik Wilkinson, Lynne Wycherley
As founding Director of the University of Salzburg Press, JAMES HOGG published, between 1971 and 1998, over 550books in his "Salzburg Studies in English Literature" series. One strand of his publishing programme was devoted to the(re)publication of British poets, neglected by metropolitan publishers. From 1994 to 2000 he also co-edited the littlemagazine The Poet's Voice.
Between 1971 and 1996 Hogg taught at the Department of English and American Studies at the University of Salzburg.His many academic publications - more than 400 to date - comprise studies in such diverse fields as contemporaryBritish literature, Elizabethan literature, Romantic poetry and Restoration drama. But Hogg has also acquired a worldwidereputation in a completely different field: as historian of the Carthusian Order of which he was a member from 1962 to 1968.In his series "Analecta Cartusiana", founded in 1970, he has edited and published more than 300 volumes.
His work in the field of Carthusian studies brought him two gold medals in 2006, one from the Federal State of LowerAustria and one from the Bishop of St. Pölten. The same year the President of France made him Knight of theLégion d'honneur. In 2007 the Queen of England officially acknowledged his great services to academic research.In December 2009 the Vatican made him a Knight of the Order of St. Sylvester.